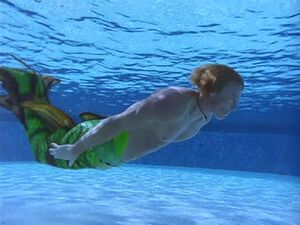 Barnaby is a merman in a movie Sabrina, Down Under. Barnaby is portrayed by actor Scott Michaelson.
Biography
Edit
Barnaby is from a colony of merfolk near Australia. He has a sister named Fin. Barnaby sought out the humans because there was some illness spreading among the sea mammals. He first saw Gwen when she was diving with Sabrina, but got scared when Sabrina also surfaced. He tried again with another group of divers, but they weren't very friendly. He got tired due to the sickness and washed up on the beach. Fortunately it was the two witches Sabrina and Gwen who found him and teleported him to their hotel room. To avert suspicion from a tailed man, Sabrina decided to give him legs for 48 hours by magic. Sabrina then brought Barnaby to Dr. Julian Martin, a local marine biologist to cure Barnaby. Dr. Julian Martin got suspicious of the new boy because he had the rash on the same shoulder where a spotted merman had it. After feeling better, Barnaby had fun with the time left until he regained his tail. Later Barnaby's friend dolphin sought him out and told him that his sister had also contracted the disease. When Sabrina went to help Fin, Dr. Martin put a tracking device into her backpack and tracked the location of the merfolk colony. Sabrina stopped the ship that was on its way to the merfolk colony. Barnaby however forgot the time and transformed back into Merman right in the middle of driving a car. Dr. Martin saw him in his tail and captured him. Dr. Martin's boss called the press, but before Barnaby was truly exposed, Sabrina saved him from the pool. Group of marine biologists had put a net up in front of the bay though and Barnaby was trapped. Fin game to his help and got tangled up in the net herself. Sabrina finally managed to convince Dr. martin to release Fin and Barnaby, and not to betray their secret. Later Barnaby and Fin swam with the witch friends at the reef that now was made into a preservation zone.
Screenshots
Edit
Set Photos
Edit
Community content is available under
CC-BY-SA
unless otherwise noted.