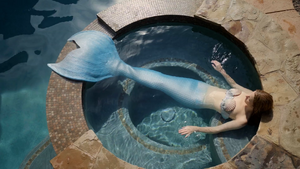 Daphne is the mermaid character in the movie A Mermaid for Christmas. Daphne is portrayed by actress Jessica Morris.
Biography
Daphne is a not so nice princess in ancient Greece. She offends a man, and his mother transforms Daphne into a mermaid with a curse. In every hundred years Daphne gets a chance to right the wrong, and break the curse by making a selfless act.
In a present day Daphne turns up in Coco Bay. A man named Travis Hunter is the current reincarnated soul of the man Daphne wronged. Daphne in the process of learning how to care for others, falls in love with Travis.
Gallery
Screenshots
Promotional
Set Photos