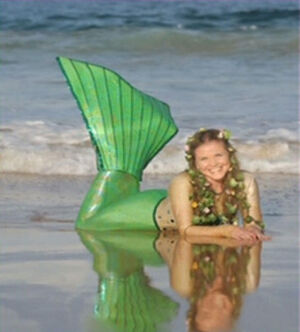 Magdalena the Mermaid is a mermaid who appeared in The Wiggles 2002 video, Wiggle Bay. She also appears in The Wiggles 2006 video, Racing to the Rainbow.
She is played by Naomi Wallace in Wiggle Bay, and by Larissa Wright in Racing To The Rainbow.
Biography
Edit
Magdalena is friends with Henry the Octopus. In Wiggle Bay, Henry introduces The Wiggles to Magdalena the Mermaid and Captain Feathersword has a dance with her. Later, she throws The Wiggles their ball back and they thank her and as they continue to play ball, she disappears in the waves.
The Wiggles talk with Magdalena and she remarks it's the key to Davy Jones' Locker. Captain Feathersword leaves with Magdalena to return the key to King Neptune. Captain Feathersword and Magdalena return with good news. King Neptune has found the boat and they have it now. King Neptune calls in to say thanks for getting the key back.
In Racing To The Rainbow, she has a song about her titled, The Princess of the Sea.
Community content is available under
CC-BY-SA
unless otherwise noted.