Obi-Wan Finale - The Loop
Play Sound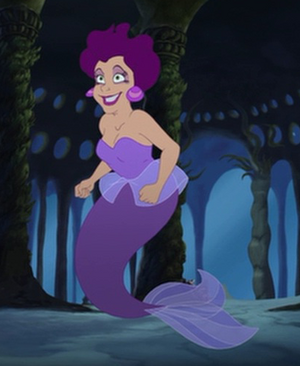 Marina Del Rey is the main antagonist in the film The Little Mermaid: Ariel's Beginning. Marina is the governess of Ariel and her sisters.
Biography
After the death of Queen Athena, the distraught King Triton appointed Marina Del Rey as the governess to his seven young daughters. Under Marina, the girls follow a strict schedule. Unknown to the family however, Marina secretly loathed her job. Instead, she dreamed of being King Triton's attache, a job held by Sebastian.
One day, Marina discovers that Ariel and her sisters have been sneaking out to an underground music club, which is led by Sebastian. As music is banned in Atlantica after Athena's death, Marina reports the news to King Triton. Triton imprisons Sebastian, as well as the other music club members, and confines his daughters to the palace. As a result, Marina rises up and assumes Sebastian's position.
In an attempt to make Triton remember how much he used to love music, Ariel and Sebastian retrieve a music box which he had given to Athena as a gift before she died. On their return, Marina confronts them. Marina wishes to retain her new position, and attacks Sebastian. Ariel pushes her away, but is injured in the process. Triton arrives in time to witness this, and regrets his earlier actions. Triton decides to repeal his ban on music, and appoints Sebastian to the position of court composer. As for Marina, she is placed into prison.
Gallery