This article is about
Mermaid, a character from The Legendary Starfy game series
. You may be looking for
other things named Mermaids
.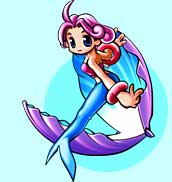 The Mermaid is a recurring character in The Legendary Starfy game series from Nintendo. She lives a giant purple shell that save Starfy's progress in different areas during the game. She also has a collum in the DS game called Mermaid Gossip where she appeared in her chibi state giving hints on what Starfy should do.
Appearance
Edit
She has pink hair, wears a pink top and pink bracelets, and has a light blue tail. Judging by her physical appearance she's most likely to be a teenage character.
Even if she above water she can still hover in her shell when the player saves the game.
She is seen with Blue eyes, however in Densetsu no Starfy 2 a picture of her shows her with purple eyes.
Community content is available under
CC-BY-SA
unless otherwise noted.