This article is about
Miranda, the 1948 movie
. You may be looking for
Miranda, the character who appears in this film
.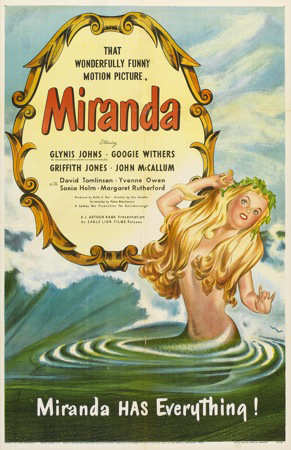 Miranda is a 1948 movie that takes place in England. The movie has a sequel named Mad About Men.
Plot
The Martins: Clare and Paul agree on having separate vacations. While fishing, Paul accidentally catches a mermaid, who pulls him underwater and takes him to her cave. The mermaid, revealed her name to be Miranda, and she confessed that she plans on keeping Paul in her cave, since she is lonely and men are few underwater. Paul however missed his wife and wanted to return to land. Miranda suggested that she will allow it, if he were to take her with him to land. Miranda taking a surname Trewella, would disguise herself as Paul's patient and live with him for four weeks, while he takes her sightseeing. Paul arrives home alone, while his driver, Charles, takes Miranda to a tour to Buckingham Palace. Miranda often compliments Charles, and Charles falls for Miranda immediately. Paul organizes a nurse for Miranda, one who is considered eccentric, Nurse Carey would be only one who would know that Miranda is a mermaid. Clare suggests that they all go to the opera, with their friend, Isobel, and her boyfriend, Nigel, after Miranda tells Clare that her greatest wish is to see opera. Nigel also falls for Miranda. Miranda and Nigel make a plan of him painting her, and go through with it, when Miranda was supposed to visit a museum. Next day, Miranda asks Charles to take her to the zoo, where she talks with seals. Later they spend the day together. Miranda gave every one of the men a token of her love, a locket with a lock of her hair. Clare figures out that Miranda is a mermaid and all the men are under her spell. Once Nigel and Charles come to ask Miranda for her hand in marriage, they realize that they were being played, and go back to their fiancés. Paul arrives back from an opera, where Miranda sang to the surprise of everyone there. Clare reveals her suspicion of her being a mermaid, and coaxes out5 a confirmation from Miranda, by comparing her to a sea calf. Miranda promises Clare a view of her tail but wants to prepare privately. Miranda then escapes in a wheelchair to the docks and swims away. Clare and Paul agree on never taking separate vacations. Miranda is later seen sitting on a rock with her baby.
Links
Community content is available under
CC-BY-SA
unless otherwise noted.