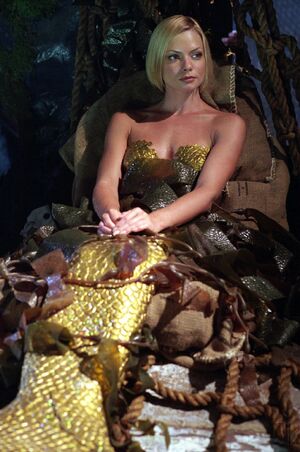 Mylie is a mermaid who appeared in TV-series Charmed first episode in season 5, called "A Witch's Tail, Part 1". Mylie is portrayed by actress Jaime Pressly.
Biography
Edit
Mylie got lonely in the sea, and wanted to find love, so she went to the Sea Hag and traded her immortality for legs and for a chance to find love in 30 days. Mylie met a man named Craig Wilson, but he didn't confess his love to her in those 30 days.
She returned to Sea Hag, but changed her mind about giving up her life at the last moment and escaped. She wanted Craig to tell exactly how he feels about her, but the rain interrupted their talk. She then saw Phoebe Halliwell's billboard, and asked for her help. Paige found Craig at the airport and brought him to Halliwell mansion. There Mylie finally showed Craig who she really is in the last hopes to get him to admit his love for her. Craig freaked out and ran away. Since Sea Hag can track Mylie's tail, she came to the mansion and took Mylie with her. Since Mylie was crushed seeing how Craig reacted about her being a mermaid, Sea Hag managed to convince Mylie to give up her immortality. Fortunately the Charmed Ones found Sea Hag's cave and brought Craig who then confessed his love, turning Mylie into regular human and saving her life.
Community content is available under
CC-BY-SA
unless otherwise noted.