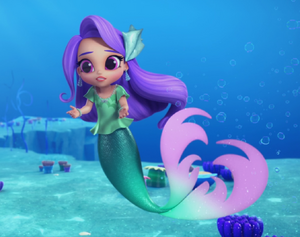 Nila is a mermaid from the TV-series Shimmer and Shine.
Nila is a mermaid who lives in the waters near Zahramay Falls that Leah and her genies befriend in "Mermaid Mayhem". When Leah uses up all her wishes, preventing Leah and her Genies from returning to their non-mermaid selves, she assists Leah and her genies in acquiring the Mermaid Gem, which allows its user to transform into a mermaid and back. She is almost like Zeta. In "Trick or Treasure" Nila, Leah, and her Genies go on a treasure hunt but a seacitter named Gazi grabs it from her hands to get the treasure for himself.
In Nila out of water, Shimmer and Shine decided to turn her into a girl so she can explore Zharamay Falls. After that and all the causing in Zharamay Falls, they went back to the beach to turn Nila back into a mermaid, and then Nila swims home into the sunset.
She is seen in the Episodes "Mermaid Mayhem", "Trick or Treasure", "Nila out of Water", and "Oceans Collide".
Nila loves her friends.
Nila admires Ula and considers her to be her hero.
Community content is available under
CC-BY-SA
unless otherwise noted.