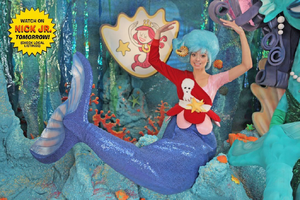 Tammy is a mermaid from the TV-show Yo Gabba Gabba! She appears in Season 4, Episode 5, titled "Mermaids". Tammy is portrayed by an actress Kate Micucci.
Biography
Edit
Tammy is a mermaid and princess of the sea, and her mother is the sea-queen in the mer-kingdom.
Tammy came to the surface to see who was crying, and found Foofa and Toodee. Foofa had lost her favorite toy in the water. Tammy used her mermaid magic to conjure up enchanted necklaces which allowed Foofa and Toodee to swim and breath under water. They then dove in and went to search for Foofa's doll. They first checked the mer-kingdom. The sea-queen had found the doll, and put it up as a prize for a dance competition. At first the sea-queen didn't want to let Foofa and Toodee compete in the competition, because they were not from the sea, but they convinced her that everyone should be allowed to join, despite how different they are. Foofa and Toodee won the contest and got Foofa's doll back.
Community content is available under
CC-BY-SA
unless otherwise noted.