This article is about
Triton, the mythological Greek deity
. You may be looking for
other things named Triton
.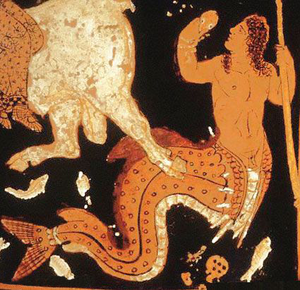 Triton is a mythological Greek God. He is most often portrayed as a merman. Triton is the son of Poseidon and Amphitrite Halosydne.
Triton is a mythological Greek god, the messenger of the sea. He is the son of Poseidon and Amphitrite, god and goddess of the sea respectively, and is herald for his father. He is usually represented as a merman, having the upper body of a human and the tail of a fish, "sea-hued", according to Ovid "his shoulders barnacled with sea-shells".
Like his father, Poseidon, he carried a trident. However, Triton's special attribute was a twisted conch shell, on which he blew like a trumpet to calm or raise the waves. Its sound was such a cacophony, that when loudly blown, it put the giants to flight, who imagined it to be the roar of a dark wild beast.
Over time, Triton's class and image came to be associated with a class of mermaid-like creatures, the Tritons, which could be male or female, and usually formed the escort of marine divinities. Tritons were a race of sea gods and goddesses born from Triton. Triton lived with his parents, Poseidon and Amphitrite, who was also known as Celaeno, in a golden palace on the bottom of the sea. According to Homer it was called Aegae. Unlike their ancestor Poseidon who is always fully anthropomorphic in ancient art (this has only changed in modern popular culture), Triton's lower half is that of a fish, while the top half is presented in a human figure. This is debated often because their appearance is described differently throughout history.
Community content is available under
CC-BY-SA
unless otherwise noted.