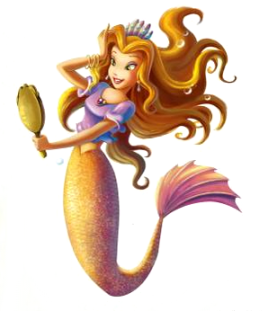 Voona is a Never Mermaid from the Disney Fairies franchise. She was introduced in Rani in the Mermaid Lagoon.
Biography
Edit
With her yellow-orange hair and golden eyes, Voona is very striking. And she knows it. Voona has many admirers. Even the dolphins love her. They bring her little gifts - pieces of sea glass and bits of rope from sunken ships. When Voona is in a good mood, she will say thank you by singing the dolphins a song. When she's in a bad mood, she will snatch the gift away without even a glance or a kind word.
In Rani in the Mermaid Lagoon, she meets Rani when Mara and Oola take the fairy to the Mermaid Castle. She, along with all the other mermaids, later abandons Rani for things she found more interesting, like Peter Pan. When Rani retrieves Oola's ring, Voona remarks that it clashes with Oola's hair. Oola then throws the ring back down Starfish Gap. When Rani said goodbye to the mermaids, Voona didn't even care.
Community content is available under
CC-BY-SA
unless otherwise noted.